Wednesday, 24 May 2017
Their story would make one heck of a country song.
THE NANNY ARRANGEMENT
Rachel Harris
Soft-spoken and shy Hannah Fisher is determined to make the man she's loved her entire life finally see her as a woman. With the help of a makeover, a new mission—Operation Find My Happy—and the convenient forced proximity of a tour bus, she vows to win her best friend Deacon's heart.
Former bad boy and current fiddle player Deacon Latrell has the world at his fingertips: a new gig with a famous band, plus his best friend on tour as his son's nanny. Life couldn't get much sweeter. Now if only he could stop imagining kissing the daylights out of his childhood BFF…
With one friend set on pushing the boundaries and the other afraid to rock the boat, one thing's for certain—their story would make one heck of a country song.
My review :-
Hilarious, entertainingand sweet. I loved it and would recommend it to everyone. The book was awesome. a definite 4 stars read from one of my favourite author. The characters were lovely, amazing and intriguing with a captivating plot.
New York Times bestselling author Rachel Harris writes humorous love stories about sassy girls-next-door and the hot guys that make them swoon. Vibrant settings, witty banter, and strong relationships are a staple in each of her books…and kissing. Lots of kissing.

An admitted bookaholic and homeschool mom, she gets through each day by laughing at herself, hugging her kids, and watching way too much Food Network with her husband. She writes young adult, new adult, and adult romances, and LOVES talking with readers!
...
Marilyn Benjamin Wassmann
Date of Publication: November 1,
2016
Cover Artist: Marilyn Benjamin
Wassmann
Pen Scratching Poets has been
described as a delightful book in which the author shares her family's collection
of creative poems.
The poems compilation and art
work are by Marilyn B. Wassmann with contributions by members of the Benjamin
family and their descendants, with the technical assistance of Paul A.
Wassmann.
The book is divided into two
sections. The first section, Pen Scratching consists of the poems by Ethel T.
Benjamin and her descendants and the second section is Marilyn's poems.
Marilyn Benjamin Wassmann was
born in a leap year.
She earned four degrees: two in
Art History, one in Library Science and one in Studio Art.
In 2011, she retired from her
work as an art cataloger at the Library of Congress.
Marilyn and her husband, Paul,
authored the children's book, What the Wind Blew In. They live in Hyattsville,
Maryland.
a Rafflecopter giveaway
Running Wild Anthology of Stories: Volume 1
By Various Authors: Sarah Smith Ducksworth, Elaine Crauder, Luanne Smith, Keith R. Fentonmiller, Lisa Montagne, Ann Stolinsky, A.J. O'Connell, Aimee LaBrie, Kristan Campbell, Jack Hillman, Bill Scruggs, Joshua Hedges and Gary Zenker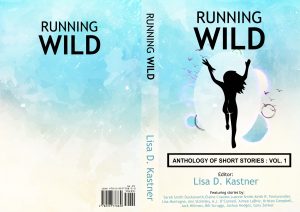 ~~~~~~~~~~~~~
GENRE: Fiction, Non-Fiction, Poetry (narrative)
~~~~~~~~~~~~~
BLURB:
This gripping collection of stories - fiction, nonfiction, and narrative poem - will make your imagination run wild! Featuring stories by Sarah Smith Ducksworth, Elaine Crauder, Luanne Smith, Keith R. Fentonmiller, Lisa Montagne, Ann Stolinsky, A.J. O'Connell, Aimee LaBrie, Kristan Campbell, Jack Hillman, Bill Scruggs, Joshua Hedges, Gary Zenker. You will travel alternative planets, run away away like teens in search of adventure, solve a murderous mystery, come to grips with your fears, and much more.
~~~~~~~~~~~~~

Excerpt :
"The jumpsuit was a thing of beauty. Made of dark-blue, shiny denim, it had an orange zipper that spanned from the crotch to the cleavage. It even sparkled ever so slightly in the sun, like it had been dipped in a vat of finely grained fairy dust. It sported capped sleeves, a wide collar, and bellbottoms. It was worthy of Cher or Liza Minnelli— certainly a back-up singer for Diana Ross. Nonetheless, it made me queasy. But, the jumpsuit also made me feel sexy and daring, which incited an occasional wave of sweaty armpits. In it, I was anxious to flaunt my new body and my new image. Seventh grade, here I come! There was no stopping me. I would no longer be the nerdy, fat kid. I would be a star." From Lisa Montagne's "The Jumpsuit"
My review :-
Highly entertaining,refreshing and fantastic. This book is a must read for every one with its beautiful and unique content, inspiring and insightful stories and amazing authors. A definite 4.3 stars
~~~~~~~~~~~~~
AUTHOR Bio and Links:
https://www.facebook.com/runningwildpress/
Elaine Crauder's fiction is also in Cooweescoowee, The Boston Literary Magazine, The Eastern Iowa Review , and Penumbra. Another story received the Westmoreland Short Story Award. Eleven of her short stories have been finalists or semi-finalists in contests, including finalists in the Tobias Wolff and Mark Twain House contests. "The Price Of A Pony," under the title"Christmas the Hard Way," was a semi-finalist for both Ruminate Magazine's short story prize and for the Salem College Center for Women Writers Reynolds Price short fiction award.
Richard D. "Ky" Owen is a lawyer with Goodwin & Goodwin, LLP, in Charleston, West Virginia. He earned a B.A. in journalism from Michigan State University in 1981 and a J.D. from Hamline University in 1984. Coming from a family of writers, he considers himself a "writer by birth." He is the author of
None Call Me Dad and he blogs about parenting and Michigan State sports on his website, www.nonecallmedad.com.
Keith R. Fentonmiller is a consumer protection attorney for the Federal Trade Commission in Washington, D.C. Before graduating from the University of Michigan Law School, he toured with a professional comedy troupe, writing and performing sketch comedy at colleges in the Mid-Atlantic States. His Pushcart-nominated short story was recently published in the Stonecoast Review. His debut novel, Kasper Mützenmacher's Cursed Hat, will be published March 20, 2017 by Curiosity Quills Press.
Based in Southern California, Dr. Lisa Montagne currently divides her time between writing poetry and prose, teaching writing to (mostly) willing college students, and overseeing educational technology projects and support at Fullerton College. She is also a Swing, Blues, and Argentine Tango dancer, host, DJ, and instructor. She likes to drink Champagne in as many places as she can, including Europe; to read poetry aloud to anybody who will listen; to cook for anybody who is willing to sit down long enough to enjoy her food; to dabble in drawing, painting, and photography; and to read anything plopped in front of her, ranging from D.H. Lawrence to Vogue magazine. She also likes to watch television and movies, and to imagine how much better she would have produced them herself. She lived in Las Vegas at one time, so she likes to tell people that she was a stripper there. She was really just a graduate student and high school teacher, but it's more fun to let people wonder. Although rumored to be a direct descendent of Oompa Loompas, Lisa is actually the offspring of a college professor and a circus dwarf. You can find some more of her writing at archive405.com and lisamontagne.com, and see evidence of her adventures @lisamlore on Instagram.
Ann Stolinsky is a Pennsylvania-based word and game expert. She is the founder and owner of Gontza Games, an independent board and card game company, and three of her games are currently in the marketplace:
"MINDFIELD, The Game of United States Military Trivia"; "Pass the Grogger!"; and "Christmas Cards."
Check out her website at www.gontzagames.com. She is also a partner in Gemini Wordsmiths, a full-service copyediting and content creating company. Visit www.geminiwordsmiths.com for more information and testimonials. Ann reviews books for Amazing Stories Magazine, an online sci-fi magazine which can be found at www.amazingstoriesmag.com, and is an Assistant Editor for Red Sun Magazine, www.redsunmagazine.com. Her most recent publishing credit is a poem in the Fall 2015 issue of Space and Time Magazine. She is a graduate of the Bram Stoker award-winning author Jonathan Maberry's short story writing class.
Lisa Montagne is a former correspondent for the Philadelphia Theatre Review and Features Editor for the Picolata Review, her short stories have appeared in magazines and journals such as StraightJackets Magazine and HESA Inprint. In 2007 Kastner was featured in the Fresh Lines @ Fresh Nine, a public reading hosted by Gross McCleaf Art Gallery. She founded Running Wild Writers and is the former president of Pennwriters, Inc. (www.pennwriters.com). She received her MFA in Creative Writing from Fairfield University, her MBA from Pennsylvania State and her BS from Drexel University (She's definitely full of it). Her novel THE KEEPER OF LOST THINGS was shortlisted in the fiction category of the William Faulkner Words and Wisdom Award and her memoir BREATHE was a semi-finalist in the nonfiction category of the same award. Born and raised in Camden, New Jersey she migrated to Philadelphia in her twenties and eventually transported to Los Angeles, California with her partner-in-crime and ever-talented husband. They nurture two felonious felines who anxiously engage in little sparks of anarchy.
Aimee LaBrie works as a communications director at Rutgers University. She earned her MFA in fiction from Penn State, and her MLA from University of Pennsylvania. Her short story collection, Wonderful Girl, was awarded the Katherine Anne Porter Prize in Fiction and published by the University of North Texas Press in 2007. Her second collection of stories, A Good Thing, placed as a finalist in the BOA Short Fiction Contest. Her short stories have been nominated for a Pushcart Prize and published in Pleiades, Minnesota Review, Iron Horse Literary Review, Permafrost, and other literary journals. In 2012, she won first place in Zoetrope's All-Story Fiction contest. You can read her blog at www.butcallmebetsy.blogspot.com.
Kristan Campbell is a short story writer born in Washington, D.C. but has only visited her grandmother there during some of the summers of her childhood. She's more familiar with Philadelphia, New York City, and Paris than her native city and aims to weave her experiences in those places into tales based on places and people that are out of the ordinary. She studied Journalism at Temple University (what seemed like a practical approach to writing at the time) and Comparative Literature at Hunter College (which seemed like a fun idea at the time) before accepting that she should have been an English major all along. Kristan completed her B.A. in English at Temple University in 2010 and an MFA in Fiction at Fairfield
University in 2016. She's currently attempting to eke out a living doing freelance editing with the help of her cat, Fishy, who manages her desktop printer with enthusiasm.
Bill Ed Scruggs spent his younger years meeting the Southern mountain countryside and exploring the people, taking time out as needed for work in various occupations. He lives (temporarily) in Connecticut and has one child, a psychiatrist. Presently he is reconstructing his memories and imaginings in a series of novels and short stories (Facebook page Foothills Fiction - Bill Ed Scruggs) Warrensburg is a fictional photo of a country village in the illumination of fireflies.
Joshua Hedges is a debut Science Fiction writer from Pittsburgh, PA. He graduated from The University of Pittsburgh with a degree in Computer Science. When he's not writing stories or code, he ventures outdoors with his wife and three-year-old son to hunt dragons in the forest.
Gary Zenker is a marketing professional whose days are filled with creating business and marketing plans, and writing ad copy and media content. By night, he applies his imagination to flash fiction tales that cross genre and focus on revealing various facets of human nature. He is the author of Meetup Leader, a book on running successful groups; is editor and publisher of 19 books in the rock & roll Archives series; and co-author of Says Seth, a humorous collection written with his then six-year-old son. His work has earned a dozen marketing awards and placed in four writers' contests, including a first place recognition from Oxford University Press. He founded and continues to lead two writers groups in southeastern PA, assisting others to develop their skills and achieve their writing goals. www.zenkermarketing.com
ONLY THE E-BOOK IS $0.99 DURING THE TOUR
Amazon eBook: https://www.amazon.com/Running-Wild-Anthology-Stories-1-ebook/dp/B06VTMDRNN
Amazon-print - https://www.amazon.com/Running-Wild-Anthology-Stories-1/dp/0997778822/ref=sr_1_1
~~~~~~~~~~~~~
GIVEAWAY INFORMATION and RAFFLECOPTER CODE
The authors will be awarding three individual prizes, a $10, a $25 and a $50 Amazon or B/N GC to three randomly drawn winners via rafflecopter during the tour.
Please use this rafflecopter code on your post:
a Rafflecopter giveaway
Tuesday, 23 May 2017
Honor does not bend. A will of iron does not break. Victory lies within the ashes.

The Vapros, the Taurlum, and the Celerius: three dynasties bound by an ancient promise, and given superhuman abilities to protect the city of Altryon from the dangerous world beyond its walls. The Vapros have the ability to teleport and turn their enemies to ash, the Celerius have super speed and the ability to heal from any wound, the Taurlum have skin like steel and godlike strength. Centuries of petty infighting have turned the families against each other, resulting in a secret war. A powerful emperor now rules over all, as the families have weakened by massive casualties.

Sixteen-year-old Neil Vapros desperately wants to become an assassin, to please his hyper critical father. After failing his first mission, Neil learns that a sinister new force has awakened. This mysterious new power threatens to shatter the established order and threaten the lives of everyone in Altryon - regardless of their family name or allegiance.
My Review:-
Amazing, intriguing, fantastic and action packed. I loved it and would recommend it to everyone. A definite 4. 3 stars . I can't wait to read or listen to more from the author. An original and captivating plot with a great prose.
About the Author: Kyle Prue
Kyle Prue is an award winning author, actor and comedian. Kyle wrote
The Sparks: Book 1 of the Feud Trilogy
when he was just 16 years old. Kyle has spent the past year on a national book tour visiting over 80 middle and high schools and meeting over 60,000 students. Kyle is now a freshman at the University of Michigan, studying acting and creative writing. He still visits schools and is a keynote speaker for conferences.
Kyle is the founder of Sparking Literacy, a non-profit dedicated to lowering the high school dropout rate by inspiring teens to read, write and follow their dreams.
The Sparks
has won numerous national awards including Best YA Fiction awards from: The Florida Authors and Publisher's Association, the Florida Book Festival, New England Book Festival, Midwest Book Festival, Southern California Book Festival, and the International London Book Festival. Kyle also won an International Moonbeam Award and IndieFab Award for Best Young Author.
About the Narrator: Jon Eric Preston
Jon Eric Preston received his Theatre degree from Florida State University after returning from the London program. He earned top honors narrating in the Dramatic Interpretation category on the Speech and Debate team, and performed professionally in Children's Theatre companies and did National Tours of A Christmas Carol, Twelfth Night, and Othello.
As a SAG BookPAL and a father reading to his two boys for more than 12 years, moving into the booth to record audiobooks was a natural and joy filled progression.
He is thrilled to be narrating and giving voice to the characters for Kyle Prue's Feud Trilogy.
Meet the Author:
Full-time author, freelance writer and workshop facilitator, Julie Rowe's debut novel, Icebound, was released by Carina Press on Nov 14, 2011. Ten novels and eight anthologies have followed. Her most recent titles are the MEN OF ACTION boxed set and VIRAL JUSTICE book #3 of the Biological Response Team series. Julie's articles and short stories have appeared in numerous magazines, such as Romantic Times Magazine, Today's Parent magazine and Canadian Living. Julie facilitates business writing and communication workshops at Keyano College in her home city, and has presented writing workshops at conferences in the United States and Canada. She's also a strong supporter of life long learning and moderates a free announcement loop for the promotion of online classes, workshops and webinars


About the Book:
Special Forces soldier and medic Walter River would give anything to snatch more than a few seconds of down time to see if he can rattle the no-nonsense and incredibly hot Dr. Lloyd he's protecting, but dodging explosions, snipers, and student radicals who've unleashed a lethal bio-engineered microorganism have made that almost impossible. Maybe he'll get a chance—if he can figure out how to keep them both alive.

CDC microbiologist Ava Lloyd races to find a cure for a bio-terrorism organism sweeping El Paso. The few stolen moments with her very hunky bodyguard River have been explosive, but no matter how alluring he is, she can't afford to get distracted. The clock is ticking, people are dying by the hundreds, and once this crisis is solved, they'll both be off on their next assignment, thousands of miles apart.


 My review :-
Hot,steamy, heart-breaking, swoon-worthy, sweet and intriguing ,all at the same time. I loved it and would recommend it to every romance lover. The book was a great read and I can't wait to read more from the author. The plot was original, well developed and enthralling with lovely and strong characters.
Charlie Donlea, one of the most original new voices in suspense, returns with a haunting novel, laden with twists and high tension, about two abducted girls—one who returns, one who doesn't—and the forensics expert searching for answers.
Nicole Cutty and Megan McDonald are both high school seniors in the small town of Emerson Bay, North Carolina. When they disappear from a beach party one warm summer night, police launch a massive search. No clues are found, and hope is almost lost until Megan miraculously surfaces after escaping from a bunker deep in the woods.
A year later, the bestselling account of her ordeal has turned Megan from local hero to national celebrity. It's a triumphant, inspiring story, except for one inconvenient detail: Nicole is still missing. Nicole's older sister Livia, a fellow in forensic pathology, expects that one day soon Nicole's body will be found, and it will be up to someone like Livia to analyze the evidence and finally determine her sister's fate. Instead, the first clue to Nicole's disappearance comes from another body that shows up in Livia's morgue—that of a young man connected to Nicole's past. Livia reaches out to Megan for help, hoping to learn more about the night the two were taken. Other girls have gone missing too, and Livia is increasingly certain the cases are connected.
But Megan knows more than she revealed in her blockbuster book. Flashes of memory are coming together, pointing to something darker and more monstrous than her chilling memoir describes. And the deeper she and Livia dig, the more they realize that sometimes true terror lies in finding exactly what you've been looking for.
Nail biting, hooking and gripping. I loved it and would recommend it to everyone. The characters were deep, intricately developed and intriguing with a captivating and masterfully structured plot that kept me hanging throughout the book. The mystery and suspense was well delivered and this was a definite 5 stars book for me. I can't wait to read more from the author.
Praise For Charlie Donlea And Summit Lake
"A gem of a mystery, fast paced and suspenseful." —Catherine Coulter, #1 New York Times bestselling author
"Fans of contemporary suspense will enjoy this brisk read." —Booklist
"An exciting debut, with all the right touches, captivating from the first page to the last. There's a bright future ahead for this newcomer to the thriller genre—definitely a talent to watch." —Steve Berry, New York Times bestselling author
"Donlea keeps readers guessing throughout. The whodunit plot is clever and compelling . . . for fans of nonstop mysteries with a twist." —Library Journal
"A swift, outstanding debut. Summit Lake engrossed me then knocked me cold. Charlie Donlea is a superb storyteller sure to damage the bestseller lists." —Robert Dugoni, New York Timesbestselling author
"With a soaring pace and teasing plot twists, Charlie Donlea's debut mystery is like a cool drink of water with a twist of lemon. It's refreshing to find a book that has such a well-developed plot and excellent writing to back it up." —BookPage
Q&A
You're a male author whose novel has at its center two strong female characters. Did you find it difficult to write from the female perspective?
Initially, it was a challenge. But there comes a point in the writing process where your characters are no longer these entities you created. They become people in your life, or at least your mind. They develop traits you never imagined they'd have when you first invented them, and they take on a life of their own. Then, it's more about how they react to the story they are part of and less about me making decisions for them. This is what makes them authentic. And if the character becomes real enough, the reader will connect with them.
How do you create suspense within your writing?
It's important to have astute and honest first readers when you're creating a story that contains plot twists. The best way to learn the art of suspense is to read novels from the author's point of view, and write stories from the reader's point of view. Then have first readers who will tell you what works within the story and what doesn't. The first draft of SUMMIT LAKE failed so horribly to fool my wife that I was embarrassed by how little credit I initially gave readers of this genre. Suspense readers are careful readers who look for clues and will anticipate plot twists unless they are carefully constructed. My wife and my sister helped me see more clearly form the reader's point of view, and understand what the readers would likely be thinking during critical plot twists. This collaboration is at the heart of the suspense in my work.
Can you name any books or authors who have influenced you?
Many, but Robert Ludlum will always be the author I credit for planting in my head the desire to write. He was the first author I read for pleasure and not by assignment.
Writing is like any sport or hobby. To improve at it, you have to learn from people who do it better than you. To become a better writer, you need to read authors who are better than you. You need to read books and say, "Wow, this is so much better than what I'm capable of producing." These authors and their books will make you a better writer. For me, a few of those authors are Robert Ludlum, Dennis Lehane, Gillian Flynn and the great Nelson DeMille. It's actually a very long list.
As far as a single book that has influenced me: The Dive From Clausen's Pier. In it, Ann Packer creates such perfect internal conflict that I often go back to that novel to remind myself how internal conflict can drive a book.
The Making Of A Medical Examiner
The following is a guest blog from THE GIRL WHO WAS TAKEN author, Charlie Donlea.
The Making of a Medical Examiner By Dr. Livia Cutty
The summer after my sister graduated high school, just as she was preparing to head off to college, she disappeared. She and another girl, actually. They both vanished from a beach party in our small North Carolina town. Their abduction sent Emerson Bay into a panic.
Every resident, neighbor and friend looked for these two girls, large packs of volunteers walking shoulder-to-shoulder through the woods hoping to stumble across any clue that might help located them. We held vigils, too, lighting candles late into the summer night in some strange show of faith that our girls would be returned to us.
This went on for two weeks, just long enough for me to secretly lose hope. And then Megan McDonald, the other girl who was taken along with my sister, resurfaced. She had escaped from a bunker hidden deep in the woods, ramrodding her way through the forest on a dark, rainy night until someone spotted her wandering on Highway 57.
My sister? She was never seen again.
That was last August. Back then I was finishing the fourth year of my anatomical pathology residency. I'd completed my undergraduate degree, endured four years of medical school, and had settled into residency prepared to spend my four-year stint learning how disease affects the human body. Back in that old life, a cushy hospital pathology job waited in my future. Maybe a teaching gig at the university. Then my sister disappeared and my priorities changed. After my residency, I applied for a forensic pathology fellowship—a one-year program that would turn me into a medical examiner. My thinking was this: Someday, my sister's body would show up in someone's morgue. It would be up to a forensic pathologist to use his skills to uncover the clues my sister's body left behind, and to hand those clues over to the authorities who might track down her killer. I wanted those skills, simple as that.
The following July, nearly a year after my sister went missing, I started my year of fellowship at the Office of the Chief Medical Examiner in North Carolina. I also started reading the bestselling memoir that was sweeping the nation. It was the true story account written by Megan McDonald, the girl who disappeared with my sister. Megan had miraculously escaped her captor, and her riveting story of survival was a blockbuster topping every bestseller list in the country. The memoir bothered me, the whoring of such personal tragedy for monetary gain infuriated me, and the fact that the book never once mentioned my still-missing sister unnerved me.
It was about that time, on a hot Monday morning, that the body of a young man rolled into my morgue. That body changed my life forever. It changed Megan's life as well, since after I completed the autopsy I began to question every page of her bestselling book. My biggest question: Was this hunk of three hundred pages a memoir, or pure fiction?
To find out how things transpired the summer I started my forensic fellowship, pick up The Girl Who Was Taken. It's a hell of a story. And the way things end will have you gasping like a brand new path fellow the first time a zipper rips down a body bag and their maiden corpse is dumped in front of them.